About Donating







© copyright 2018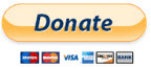 About Donating
Modular Synthesis:
Granular Techniques:
Hardware:
Simply because you would like me to continue my work concerning music and sound, producing tutorials and workshops and more and bring you some more hours of having fun with sound, with VSTs and other gear and probably even giving you some information and insights, which you are interested in and which are useful for your work or helpful for you following your passion.
Well, click on one of the "Donate" buttons on my website and follow the easy steps. And if you want to get one of the donationware tutorials or workshops in exchange for your donation, just write it in the comments of your donation (which is one of the aforesaid easy steps), add your email and you´ll get the link to the download of the video.
Sharing, linking, commenting my videos, my YouTube channels, this website, my activities. Bang the drum for it in forums, in your social media, your clubs, your circles etc. Write about your experiences with my workshops, tutorials and activities concerning music and sound.
About Donating