© copyright 2018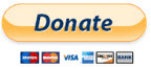 Tutorials
Modular Synthesis:
Granular Techniques:
Hardware:
Softube´s Modular - Tutorial 6 "The Doepfer A-140 ADSR"
It´s all about envelopes here in tutorial no. 6. The Doepfer A140 ADSR module comes with some "secret" attributes, which are explained in detail. But even the common functionality of the unit invites to some interesting applications.