© copyright 2018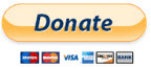 Tutorials
Modular Synthesis:
Granular Techniques:
Hardware:
Softube´s Modular - Tutorial 9 "The Sequencer Modules"
Some people call it the core competency of modular synthesis, others think it is a redundant part of synthesis with all that computers at hand. I simply love it: Analogue Sequencing! Sequencing anything and everything, producing short fast running patterns embedded in long lasting and huge carpets of sound … Well, just watch tutorial 9.