© copyright 2018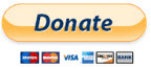 Tutorials
Modular Synthesis:
Granular Techniques:
Hardware:
Softube´s Modular - Tutorial 12 "The Buchla 259e Module"
Producing tutorial 12 took me exactly 56 hours and 5 minutes. The Buchla 259e module is probably the most complex wizard of sound delivering the most unpredictable results at the beginning, which I´ve ever had under my fingers – which are still trembling a bit. Watch and get your fingers tremble as well.