© copyright 2018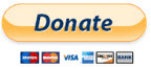 Tutorials
Modular Synthesis:
Granular Techniques:
Hardware:
SoloStuff´s SoloRack Tutorial 4 "The Oscillators Part 2"
Saw, supersaw, hypersaw … well, it´s about the S304 and the S302 oscillators. It´s about noise and about Karplus-Strong, about some certain frequency modulation and about a complex patch. Phase shifting, through-zero FM and the year 1984.