© copyright 2018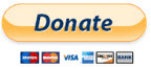 Tutorials
Modular Synthesis:
Granular Techniques:
Hardware:
accSone´s CrusherX Tutorial 4 "The Buffer Part 2"
The following questions are answered in the video:
Well, it´s really a bit tricky, this buffer thing. And it deserves two videos. Let me repeat: understanding the buffer´s function is fundamental for studio use as well as in life situations.