© copyright 2018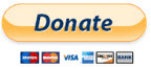 Email
Modular Synthesis:
Granular Techniques:
Hardware:
NEWS 2
A Sonic Electron Microscope ...
... that everybody can use to build new software instruments for sample players. The granular approach to sound may well be considered as a powerful microscope, which doesn´t help you to look deep into things making the smallest details visible, but enables you to listen deep into sources of sound making the smallest details audible.
Tutorial number 19 in my series about accSone´s granular sound processor "CrusherX" is going to deal with all of this. I´ve just began producing this 18th part, which is estimated to be published at the end of May 2018.